Généralités
In 3 years, the CFI specialty trains expert engineers in the fields of Chemistry, Chemical Engineering and Polymer Materials. Innovation, safety at work and the environment are among its concerns.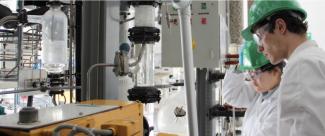 Keywords
Chemistry

Chemical engineering

Polymer materials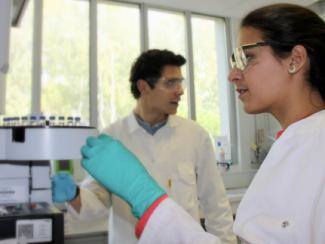 Spécialité Chimie et génie chimique - CGC
(643.71 KB, Pdf)
Download
Training description
Courses
teaching: Mathematics, Computer Science, Instrumentation, Signal Processing, Automatic, Chemical Engineering, Analytical Chemistry, Organic Chemistry, Inorganic  Chemistry, Nuclear Chemistry, Materials, Polymers ...
55% of scientific courses (20% by industrials), projects and 25% of non scientific courses (Communication, Foreign Languages, Management)
project carried out in one of the school's laboratories during the 2nd year and specialization in the 3rd year: Organic Chemistry, Polymers & Materials, and Chemical Engineering
international dimension: 3 months abroad, university exchanges (ex:ERASMUS program), double degrees (Colombia, Brazil) and joint degrees in Biochemical Engineering with Germany
Admission
Students can apply to INSA after a postgraduate degree or after two years of higher education in sciences.
Professional opportunities
Fields
Chemistry (pharmaceutical, automotive, materials, cosmetics ...), Chemical Engineering, Consulting, Energy ...
Engineering functions
R&D engineer, Production engineer, Technical sales representative, Quality engineer, Consultant
I choose CFI specialty
On a real campus
This training takes place near the city of Rouen on the campus of INSA Rouen Normandie, easily accessible with public transports. Student residences are available on campus.
An interactive approach
Long term personalized projects enable students to increase their theoretical knowledge, acquire skills and develop their own innovative ideas.
Support for innovation and entrepreneurship
INSA Rouen Normandie is committed to training profiles sensitive to innovation and entrepreneurship. The institute takes part in different promotion programs such as Pépite, which assists young entrepreneurs.
A professional model
Students have several opportunities to discover the professional context: internships, project management, factory tours, professional conferences and the possibility to carry out their final year within the frame of a professional training contract: 2 days in the company and 3 days at INSA Rouen Normandie.
A personalized curriculum
Students have the opportunity to prepare for a research Masters during their 3rd year: Polymers & Surfaces masters, Chemistry masters and Flavors & Perfumes masters. They can also do their last year in a similar specialty in another INSA.
Facilities
This specialty has dedicated buildings: 3 process engineering halls, 12 practical work rooms, 2 computer rooms and state-of-the-art equipment.
Professional network
The school is part of the Gay-Lussac federation, the oldest thematic network in the world of engineering schools. It offers a better visibility to its partners and its concrete actions bring a real plus to the training of engineers. Through this network, CFI students have the opportunity to do their last year in one of the schools of the federation delivering the Chemistry engineering degrees.