Généralités
Engineers trained in the MECHANICS specialty can intervene at all levels of industrial processes : overall or detailed design, materials choice, implementation, fabrication, maintenance. They master modeling and optimization as well as product or new materials development.
Graduates have the opportunity to continue their studies with a PhD.
Keywords
Mechanics

Process

Materials

Modeling

Automotive industry

Civil engineering

Aerospace industry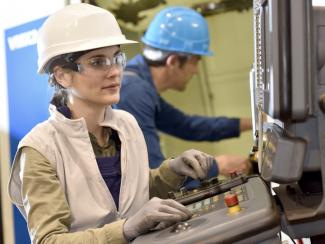 Training description
Courses
teaching: Materials and Processes, Deformable Solid Mechanics, Mechanical Systems and Control, Modeling Tools, Numerical Methods, Technology and Materials, Experimental Techniques …
55 % of scientific teachings, 20% of projects and 25% of humanities (Communication, Foreign Languages, Management…)
general knowledge acquisition of mechanics, in the years 1 and 2. Pre-specialization in year 2 then specialization in year 3: Product Engineering/Process, Design and Dimensioning of Structures or Fluid Mechanics for Aerospace Engineering
international aspect : minimum of 3 month internship  abroad, possibility of preparing a joint diploma with Germany or a double diploma with Brazil or Spain
Admission
Students can apply to INSA after a postgraduate degree or after two years of higher education in sciences.
Professional opportunities
Fields
Automotive, Aerospace, Nuclear, System Design, Production, Civil Engineering ...
Engineering functions
R&D, Production, Project leader ...
I choose mechavnics specialty
On a real campus
This training takes place near the city of Rouen on the campus of INSA Rouen Normandie, easily accessible with public transports. Student residences are available on campus.
An interactive approach
Long term personalized projects enable students to increase their theoretical knowledge, acquire skills and develop their own innovative ideas.
Support for innovation and entrepreneurship
INSA Rouen Normandie is committed to training profiles sensitive to innovation and entrepreneurship. The institute takes part in different promotion programs such as Pépite, which assists young entrepreneurs.
A professional model
Students have several opportunities to discover the professional context: work experiences, project management and possibility to carry out their final year within the frame of a professional training contract: 2 days in the company and 3 days at INSA Rouen Normandie.
Facilities
This specialty has several pedagogical facilities: a common center of precision machining equipped with a 5-axis machine and a center of innovation and expertise in mechanics, materials and energies.
A personalized curriculum
Students have the opportunity to prepare for a research Masters during their 3rd year (in a laboratory such as CORIA, GPM or LMN). They can also do their last year in a similar specialty in another INSA.