Clubs and societies
Upon student enrollment, educational trainers encourage student awareness of the human dimension of their future career. Their commitment is naturally strengthened through cultural, sports, scientific or humanitarian association initiatives, in conjunction with frequent support by the Student Council.
Sports Association
The Sports Association aims to encourage participation in sports by students, INSA staff and users of the Madrillet Technopôle higher education program. It represents INSA in academic sports events and gives students the opportunity to participate in approximately thirty activities in the school's gymnasium, opposite the campus.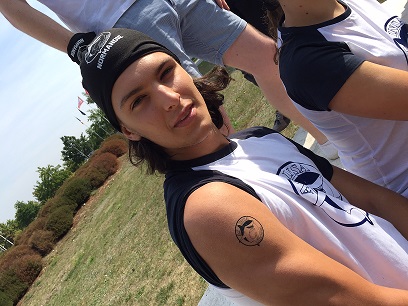 INSA gymnasium equipment:
A climbing wall
Two multi-sports facilities,
A combat room
• A fitness room
Activities:
Breakdance
Crossfit
Abdo fessiers
Badminton
Men's and women's basketball
Boxing
Cheerleading
Circus
Coaching
Elite sport coaching
Track
Modern Jazz
Climbing
Men's soccer
Mixed futsal
Men's and women's handball
Brazilian Jiu-jitsu
Nordic walking
Bodybuilding
Qi Gong
Quidditch
Weight training
Men's and women's rugby
Squash (in conjunction with a club in Rouen)
Table tennis
Trail
Troll ball
Sailing - AVIRE Association
Men's and women's volleyball
Mountain bike
Yoga
Zumba
Sports association subscriptions
Annual subscription: €60,
A current-year medical certificate is mandatory for students wishing to compete in university events and for anyone over 35 (certificates are mandatory for everyone participating in HIGH RISK SPORTS),
A health questionnaire for students and staff not participating in competitions and under 35.
Contact
Permanence on Monday, Wednesday and Thursday in the Magellan building, office HR 1 117
M. DUBUIS, AS president
guy.dubuis@insa-rouen.fr
Mme MAROS, AS assistante
johanne.maros@insa-rouen.fr
02 32 95 66 20
Student Council
The Student Council is an association for INSA students.
Its mission:
Facilitate cultural, recreational, sports and social life on campus (theme-based events, support of student associations and clubs, etc.))
Build ties among students (integration of new students, inter-INSA events, etc.)
Promote INSA student talent inside and outside the university (student project grants, gala, etc.)
The Student Council is highly engaged in daily campus life and offers services with highly competitive rates:
Printing and binding reports, photocopying,
Student recreation rooms in school residence halls where students can play pool and table tennis, watch movies or meet with friends,
INSA polo shirts and sweatshirts,
Coffee and pastries during breaks.
The Student Council also publishes INSA TV News, the school newspaper and the INSA guidebook for first-year students.
Votre contact
Tél. / Fax. : 33 [0] 2 35 52 83 66
Courriel : bde@insa-rouen.fr
Clubs and associations
In order for everyone to take part in what they are passionate about, the Student Council manages the clubs with regards to organization, equipment and funding:
Astronomy
IT
Juggling
Music
Photograhy
Poker
Rallying
Robotics
Sailing
And much more…
Junior-Entreprise
L'AJIR est la Junior-Entreprise de l'INSA Rouen Normandie. Une Junior-Entreprise s'inspire du modèle des cabinets de conseil. L'AJIR donne l'opportunité aux élèves de l'INSA de se professionnaliser à travers des projets pour des entreprises, par la mise en pratique de leurs enseignements.
L'AJIR est entièrement administrée par des étudiants de l'INSA pour ses étudiants.
De nombreuses compétences complémentaires à la formation technique ingénieure y sont développées telles que :
Le Développement Commercial
Le Pilotage et la Stratégie au sein d'une structure
La Trésorerie
La Communication
La Qualité
La Gestion des Ressources Humaines
Rejoindre une Junior-Entreprise, c'est intégrer le premier mouvement national étudiant de France comprenant 180 structures appartenant aux plus grandes écoles françaises et regroupant plus de 20 000 étudiants. C'est aussi participer à des Congrès Régionaux et Nationaux et enfin bénéficier de formations avancées, dispensées par les partenaires Premium du mouvement.
Votre contact
ajir@insa-rouen.fr