Généralités
INSA engineers require in-depth knowledge in the humanities to manage and lead groups in complex national and international contexts. As responsible citizens and active players in the life of the enterprise, they must understand its economic, cultural, social and human challenges. With such goals in mind, more than 20% of the 5-year INSA engineer curriculum focuses on branches of the humanities: languages, communications, human sciences, management, and cultural, art-related, physical and sports activities.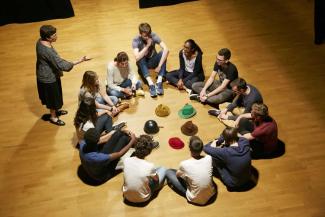 Training description
Physical and sports activities
Training aims to improve psychological, physiological, psychomotor and social abilities through team or individual sports. Above all, it focuses on awareness of the body, group relationships and mindfulness. Physical and sports activities include three categories: mandatory sports, participation in sports associations and FFSU competitions (optional), elite sports (optional)..
Communications
Teaching focuses on developing the written and oral, listening and negotiation skills of future executives. The program includes: communication scenario analysis, an oral presentation, professional correspondence usage (CV, cover letter), reporting, documented and bibliographical research on a society-related or general knowledge topic, the writing of a thesis, an internship and a written report, argumentation.
Foreign languages
Proficiency in foreign languages prepares future engineers for the demands of career mobility and for work with multi-cultural teams. INSA Rouen Normandie offers courses in the following languages: English, German, Spanish, French as a Foreign Language, beginners Chinese, Italian and Portuguese. The theoretical and practical study of two modern languages, one of which must be English, is mandatory. Students must have a B2 level in English according to the Common European Framework of Reference for Languages (CEFRL) to obtain an engineering degree.